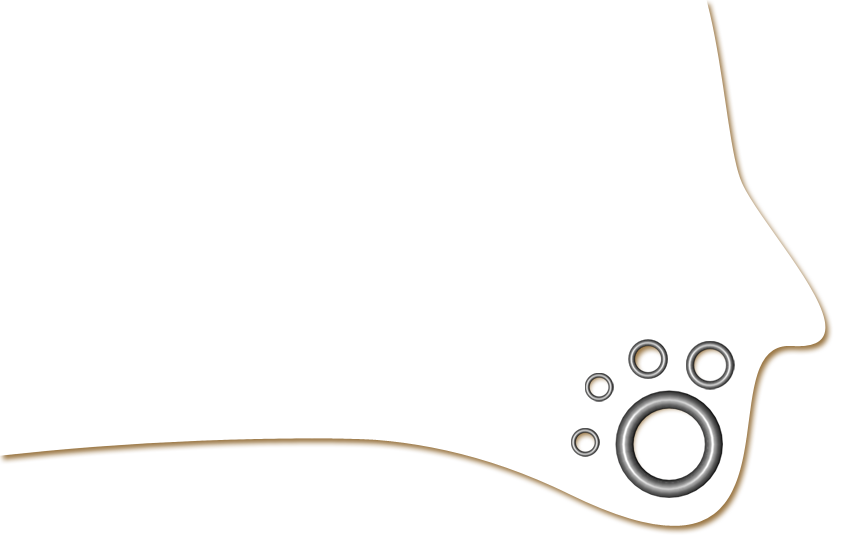 Events
Human Trials
@BIOS: The Poetics of Life in Digital Media
West Virginia University - 09/06
Virtual Reality SubFest
@Buffalo Infringment Festival
Hallwalls - 08/06
VR MicroTheatre
@Buffalo Infringment Festival
Coit House - 08/05
techARTS for Girls
CFA 266 - 06/05


Realities
2005 Student Show
Crosby Hall - 04/05
V_Hive Networked VR Exhibit
CFA 266 - 10/04
VR, Networking and Collaboration
CFA 266 - 04/04


The Trial The Trail User tests of VR Drama
CFA 266 - 10/03
Depth Cues
Squeaky Wheel - 05/03


Building a Low Cost VR System 2000-01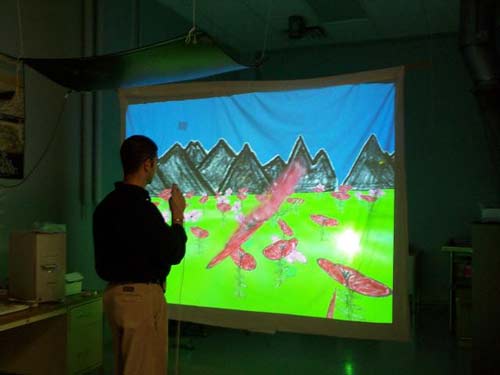 Basic System
It is a projection-based system based on the CAVE and Idesk technology developed at Electronic Visualization Laboratory (EVL)
It is a passive-stereo system, with one 7' x 5' screen, and a tracking system
A linux PC with a dual headed video card runs the graphics
Components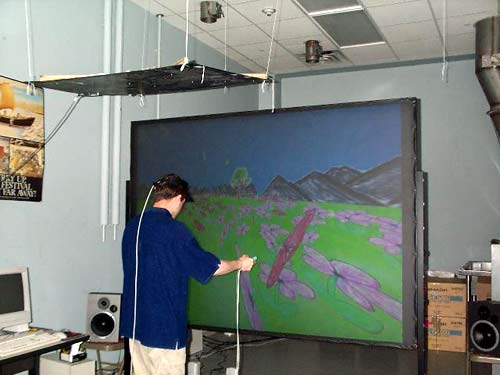 Ascension 6 degrees of freedom SpacePad tracker with 3 sensors
The tracking antenna hangs above & in front of the screen
It sends out a pine cone shaped magnetic pulse
Tracking sensors send back info on their position & orientation within the tracking signal to a PC kindly donated by UB's CCR
The Tracking PC is connected by ethernet to the Graphics PC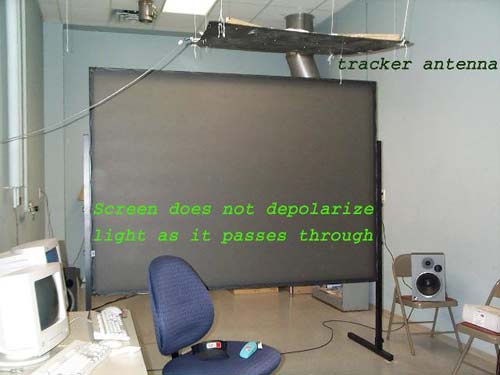 Stewart Filmscreen "Disney Black" polarization-preserving rear-projection screen
A polarizing preserving screen means that we can do passive stereo
The screen size of 5 foot * 7 foot was partially determined by the size of our tracking signal, and partially by the size of the room and throw distance of the projectors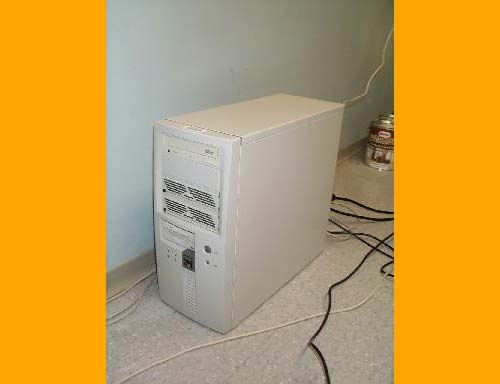 Penguin Computing dual-processor Linux PC for Graphics
We chose linux because we wanted to use graphics software developed for sgi systems which we can run on linux, specifically Iris Performer and "XP" & "Ygdrasil" VR authoring systems that use Performer developed by Dave Pape
We also use CAVElib which is available for unix, linux and windows
The Penguin is clearly much cheaper than an SGI onyx. PC's can now draw polygons and textures at a competitive rate, but we see very nasty aliasing with our current video card
Matrox G450 dual-head graphics card
Dual head for 2 channels of video
The second component of our passive system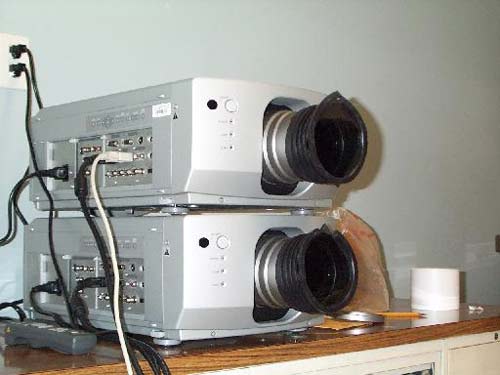 Two Sharp LCD projectors
Simulataneously projecting images for left and right eye
A lens shift feature makes it easier to align the 2 images exactly on the screen
Circular Polarizing Filters (American Polarizer)
A filter on each projector polarizes the video projection
The projection passes through the polarizing preserving screen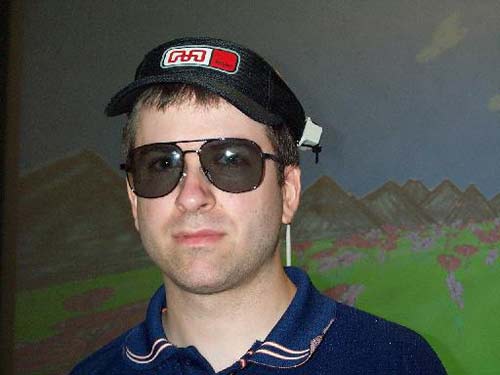 Circular Polarizing Glasses (FakeSpace Systems)
User wears glasses so that the right eye receives the right eye image, the left eye receives the left eye image & the brain fuses the two images for a 3D effect
Circular polarization is important so that the user does not lose stereo if they tilt their head
Passive stereo glasses are much cheaper than active glasses. The active glasses are also fragile. This picture shows plastic glasses - cardboard ones are available and even cheaper.
Result
A rear-projected, 1 wall, passive-stereo VR display device with tracking for a total cost of ~$20,000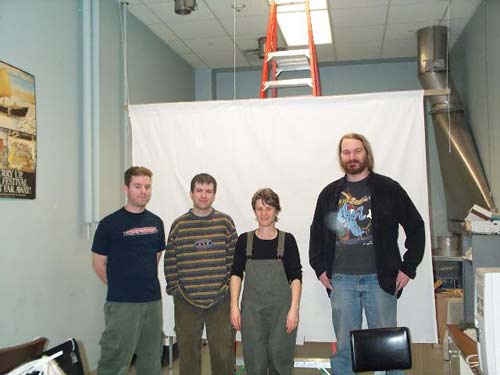 Team
Media Study/ Buffalo
Josephine Anstey
Chris Galbraith
Dan Neveu
Paul Costa
Dave Pape
*With assistance from the Electronic Visualization Laboratory (EVL) , UIC